PARADES
We currently participate in 8 parades (4 local and 4 out-of-town).
Local Parades
Mardi Gras at Pier Park                                              January
Mardi Gras at St Andrews                                        February   
Lynn Haven's 4th of July parade                              July
Pirates of the High Seas Festival (Pier Park)         October
Out-of-Town Parades
Krewe of Lafitte Pensacola – in January
Springtime Tallahassee Tallahassee – in March/April
Billy Bowlegs Ft Walton – in May/June
Seafood Festival Apalachicola – in November
These 8 parades give you & your girl year-round opportunities to ride on the floats, throw beads & tailgate.  You will make friends in your own Krewe, and get to know interesting folks from the out-of-town Krewes. We focus on staying in the Florida Panhandle, so it's an easy 1-2 hour trip to these "away" events. 
FUN FACT: We invite out-of-town Krewes to all of our events as well. So there is lots of cross-krewe action. They come to our balls & parades.
Floats
We currently have 8 parade floats, each with unique membership and purpose.
Each of these floats have great sound systems that boom the music playlist out to parade watchers, setting the tone for high-energy and excitement when we pass them by. Every member has the opportunity to ride floats in numerous parades, throughout the year.  It's a truly unique experience and loads of fun. It may sound a little silly at first, but it's impossible to describe what a blast it is to stare out at a sea of faces, all yelling for you to throw them some beads.
Some of the floats have separate Float Dues, which are in addition to your annual membership dues. So, if you want a reserved spot, you'll need to talk with one of the Float Captains. These Float Dues cover costs such as "tailgate style" food and beverages on that float, for example; Float Captains will schedule occasional meetings at Barataria Bay to talk about maintenance, provisioning the float, loading beads, or to clean up the float before the next parade. 
Many of these Float teams have a unique patch that they sew onto their uniforms and duty shirts. This just adds to the small unit comradery and spirited competitiveness of the Krewe. Also it is generally accepted custom to tip the Tailgate Servers, no matter which float you ride. 
COURT FLOAT
This float is for our current Court to ride on.  The current King & Queen ride in the back, sitting on Royal Thrones… with their court of Pirates and Princesses arrayed in front of them (6 Pirates on the Left and 6 Princesses on the right). They enjoy the honor of riding on this float for the one year during their reign. Then they revert to their chosen home floats.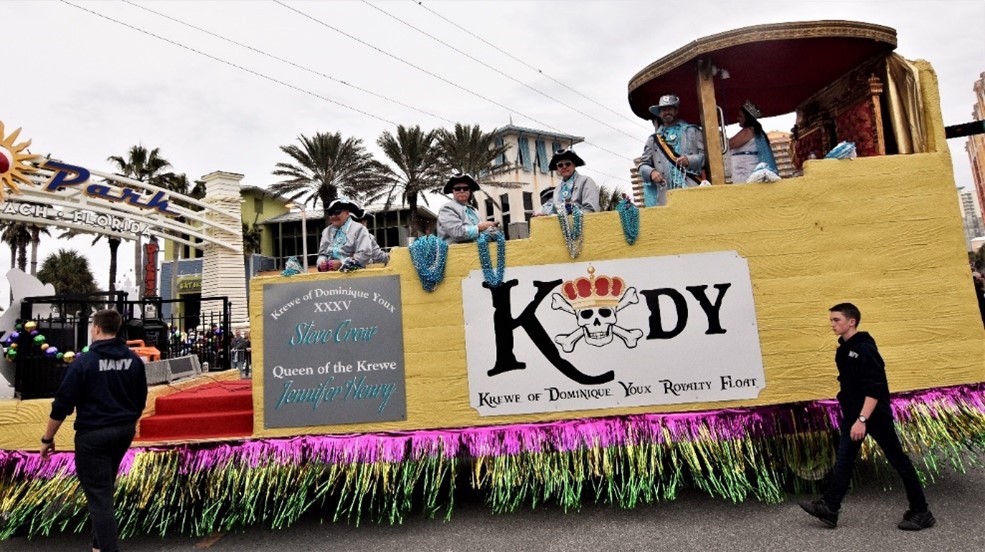 Queen's Float
Ridership on this float is exclusively for past Queens of the Krewe. We are currently rebuilding this float, to make it bigger and better. This KODY float pays homage to the fine Queens who have reigned in the past. This makes it truly a ROYAL experience, as this bevy of beauties rolls by. The current Float Captain is Queen Cindy Percival.
MARIE LEVEAU
This float is cursed and under a spell cast by Marie Laveau, the legendary Voodoo Queen of New Orleans. The pirates manning this float have tried everything to break the spell, but the curse is too strong. Welcome to the spell binding float Marie Laveau. The current Float Captain is Mike Walsingham.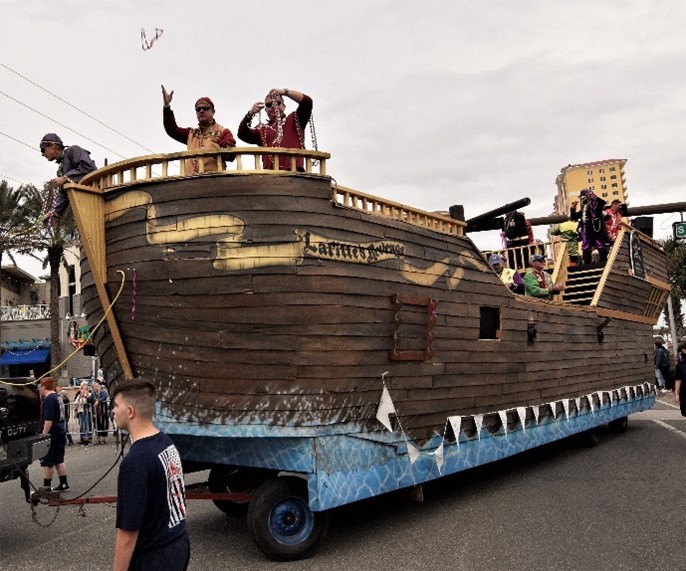 BATTERY THREE (Lafitte's Revenge)
This float was named to commemorate the efforts of Captain Dominique Youx, the half-brother of Jean and Pierre Lafitte, during the battle of New Orleans in 1815. Captain Dominique Youx commanded Battery 3, a main position near the headquarters of General Andrew Jackson. With the help of Dominique Youx and his French pirates and privateers, the Americans defeated the British and saved the city of New Orleans from capture.  Battery 3 is led by its Captain – Sam Stone and their war ship is LAFITTE'S REVENGE. 
RUM RUNNER
Thru out the centuries, pirates & rum have gone hand in hand. Getting rum from the Caribbean to the mainland has been a major pirate trade for centuries. The Rum Runner always travels with many barrels of the best rum that gold and silver doubloons can buy. The krewe always has a great party with these pirates of the spirits around. These are the Dominique Youx Rum Runners, led by current Float Captain – David Landreth. 
MERMAIDS "aka Jewels of the sea"
The Mermaids of the Krewe of Dominique Youx present the "Jewels of the Sea".  Designed to detail the colorful wonders of the deep blue sea, the float was hand made by the original members and took over a year to construct.  Today, the Jewels of the Sea hosts up to 40 Mermaids, and continues to be a crowd favorite (especially with the young girls along the parade route). 
"We got no troubles, Life is Bubbles, Under the Sea"
There are 2 featured stations on the front, where ladies dress in mermaid outfits and strap into clam-shell seats.  Bubble machines are mounted on each side, and spotlights shine on them at night as they throw beads & wave to the crowds. This honor rotates every parade, giving a truly unique opportunity for select mermaids.  The current Float Captain is Stacy Fontaine.
BLACK WIDOWS
The Black Widow is another float oriented towards our ladies. When this ship sets sail, searching for their next conquest, they are not afraid to take what they want. Their reputation as animals of prey precedes them. Don't get caught in their web of lies & deceit, for their treachery knows no bounds. The current Float Co-Captains are Brenda Harned / Lindsay Wright.
"You come to play … we take you as prey"
LAND SHARKS
This float proves that sharks can live on land. This party-hearty group of pirates is riding the "Land Shark". These bead throwers have their Finns in the air and their razor-sharp teeth showing as they bring fun and a good time wherever they go. This is the newest addition to the pirate fleet and is a two-story (double-decker) float that also serves as our travelling float when we go to out-of-town parades.  It is the largest float we have, in terms of capacity, with 50+ throwing stations (& 4 overflow spots). The current Float Captain is Steve Crow!
The KODY Float Barn
We have a state-of-the-art, brand new Float Barn now.
Krewe of Dominique Youx
7550 Holley Wood Lane
Panama City Beach, FL 32408
We house all our 8 floats safely inside, so this facility is our staging area too. We load beads & refreshments onto these floats before every parade. The Krewe Quartermaster oversees these supplies, and if you are on a float crew… you will be asked to help "load your ship". Of course, these "provisioning parties" require lots of grog and grub because we not only load them up, but curate the music play list, perform minor repairs and generally socialize. Great time for fun and bonding.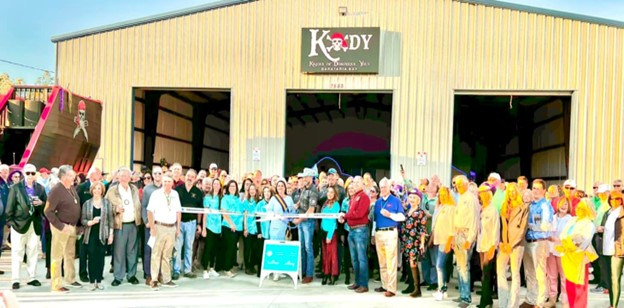 Landon Wright is our current Facilities Director, and he was instrumental during the construction of this great building. He has a team that works tirelessly to continue "fitting out" this facility, making it better every month. If you would like to serve on his committee, please let him know. It takes a lot of effort to keep the Float Barn looking & functioning well. 
At the back of this float barn, we have an Activity Room. This room is climate controlled, and seats 200+ people. We have most of our parties and meetings in this room. Fully stocked bar and bathrooms, it pays tribute to our legacy and proud past. We have over 8 flat screen TVs in this room now, WIFI, and a good stereo system. We call this party room "PERCIVAL's PIRATE LAIR"!!!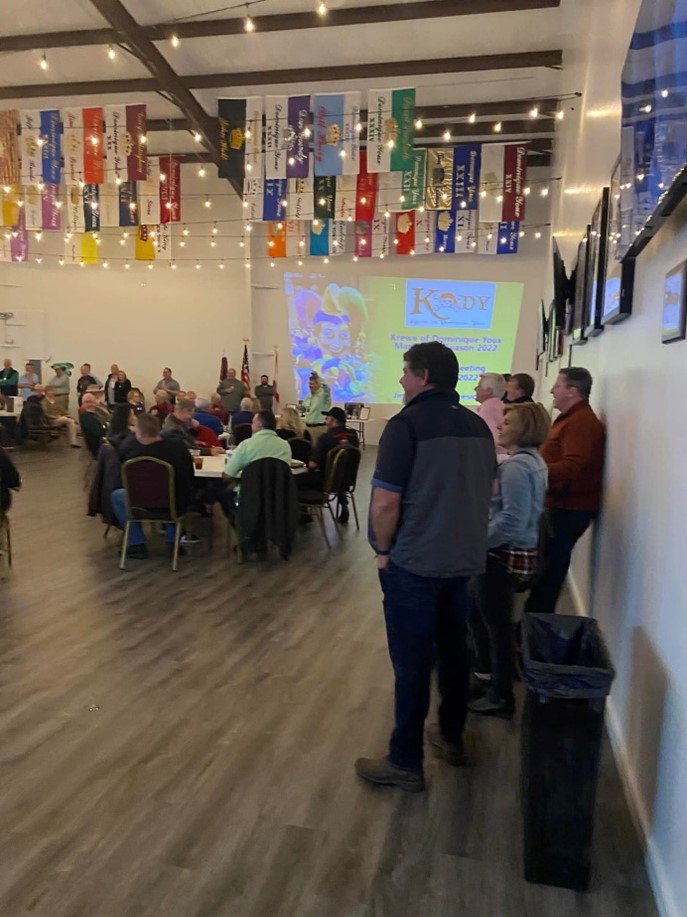 We have done several rounds of fundraising to finance this fantastic new facility. Part of this building (the Activity Room) is named for Jim and Cindy Percival, who have provided numerous matching gifts which helped raise over $100k towards the construction of this wonderful building. Highlights of this room include the badges of all our individual floats above the bar, capes of the past Kings that adorn the walls, and the banners of each of our past Kings that "hang high in the rigging"! On their shoulders do we now stand, and thankful are we for their mighty contributions.